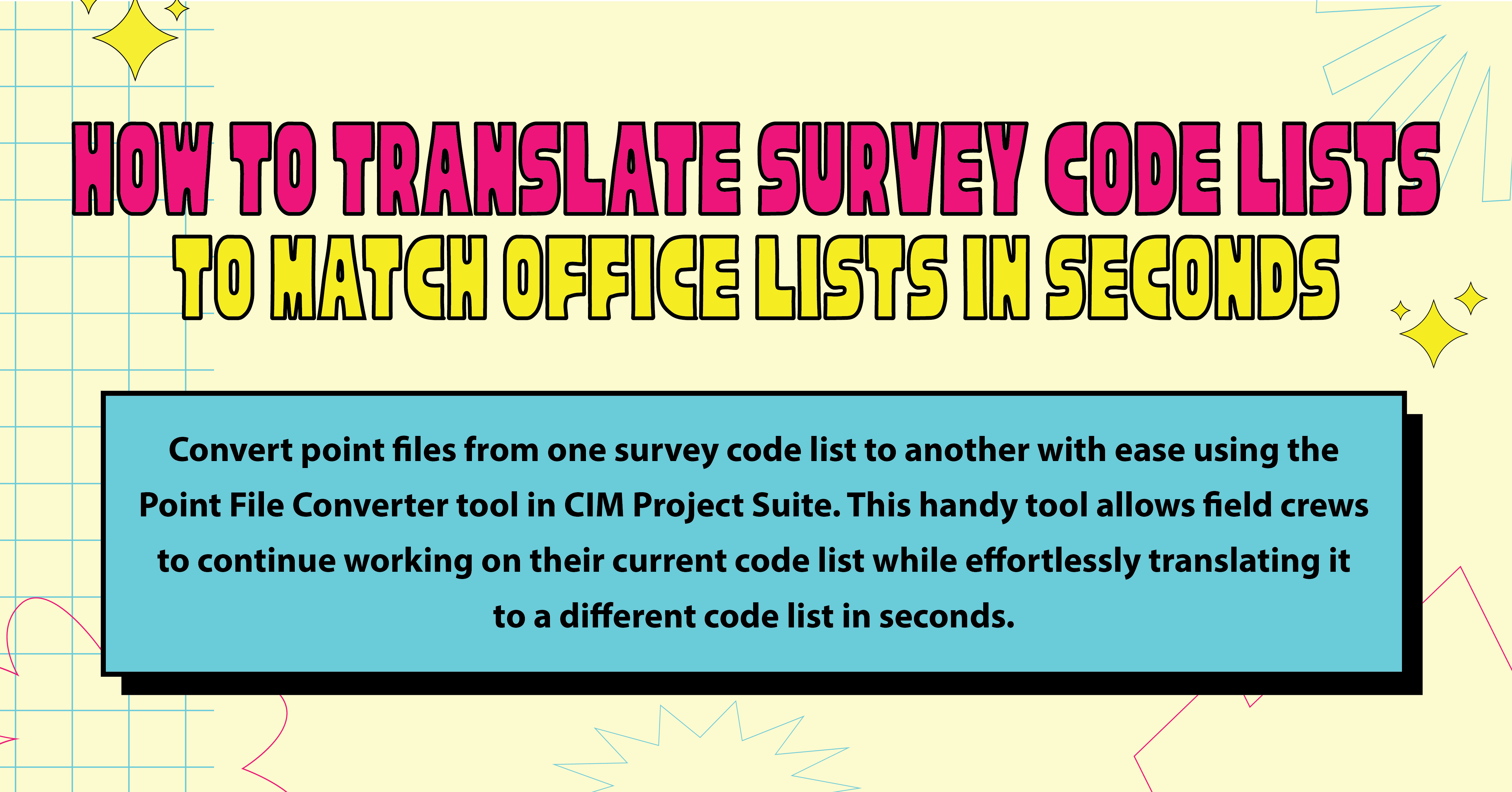 Use Point File Converter from CIM Project Suite
Import and export survey data from Civil 3D
Perform a survey code translation from one standard to another
Managing different survey code lists can be a data entry nightmare. It's tedious to convert point files from a government agency, another company, or an in-house field crew working on a different code list standard.
The Civil 3D tool to edit name codes in the Prospector is tedious and limited to changing point descriptions individually. The Point File Converter tool in the CIM Project Suite from CTC Software is a way to automate converting point files from one standard to another. The tool works with AutoCAD and Civil 3D 2020-2024 and for various point file types such as csv, txt, asc, etc.
Get Started with Point File Converter
Point File Converter offers some quick magic in converting from one nomenclature system to another.
To get started, locate your original point data file. If your only copy of the point data is in a Civil 3D drawing, export the point data from the drawing by right-clicking 'Points' in the Prospector and selecting export.
Next, set up a translation file. This setup needs only to be done once to translate from one point description system to another. Point File Converter has a sample translation file for you to get started from as a template.
To access the sample translation template, start the point file converter tool by clicking the 'Point File Converter' button in the CIM Project Suite Ribbon.
The sample template is intuitively located by a button towards the upper right-hand portion of the dialog box.
The translation file is where you will need to spend a little time in the setup of which out-of-standard descriptions to match your standard coding. I can take the sample template and add and modify the old and corresponding new codes. When done, I save-as the translation Excel file with my initials at the end of the file name.
I can now use the 'Point File Converter' dialogue box to automatically complete my survey code translation.
The steps necessary to execute the translation are to first set the translation file destination to my new translation Excel file I created above with my initials at the end of the file name.
Second, add the file that needs to be converted. This is the original point file from the agency, client, or your survey colleague (Additionally, this could be the file you exported from Civil 3D above).
Third, check the box for "Report codes not specified in the translation file." This will generate a report of any codes that failed to convert in the translation process. You can save this report as an Excel file for your reference. If the report turns back findings, add these codes to your translation file and repeat the above process until the report doesn't populate any results.
The Point File Converter will then create a new point file with the suffix "-CONVERTED" at the end of it. The point file is now in your survey code standards and ready to import into Civil 3D and for your survey figure linework to automatically populate according to your Survey Database and Linework Code Set standards. To import, go to the survey tab in Toolspace, right-click on the survey database, and select import.
In conclusion, the Point file converter provides an easy-to-navigate environment where Civil 3D users can use their Excel skills to set a translation file and review both the original survey point data file and the freshly converted and code-standardized survey data. Adding the point file converter to your toolbelt allows you to achieve extreme efficiency and automation when converting from one survey code list to an in-house survey code standard, especially when repeatedly converting survey data from the same source client or government agency.
Alan Bliss
Civil Technical Specialist
Do more for your workflows with CTC Tools for Civil 3D!
Location: Encinitas, California
Alan helps our clients with training, mentoring, software consulting, local deployments, drafting, and design needs. Alan's work experience ranges from surveying and civil land development projects, residential and commercial developments, public works and improvement projects, highway widening, utility design projects, Geotech and soil projects, planning and permitting consulting and management, and environmental mitigation projects.
Alan has a master's in business administration and is always looking for efficiencies in the work processes he's engaged in. His work experience and acquired skillsets have helped him become a patient and adept teacher, trainer, and mentor acclimating beginner to advanced-level users to new features in software like the Autodesk suite and workflow management in a laid-back approach. He is an Autodesk Certified Instructor (ACI) and proficient in Autodesk software (AutoCAD, Civil 3D, Infraworks, Map 3D, BIM360, SSA, Recap Pro, Vehicle Tracking), Esri ArcGIS Pro, and Bluebeam Revu.
Production Projects
Bressi Ranch – Carlsbad, CA – Involved in planning, mapping, design, and construction phases of this large-scale master-planned mixed-use community.
San Elijo Hills – Civil Engineering Designer – Conquered an achievement of modern engineering challenges by grading design using cutting-edge retaining wall design, Geotech, and expert use of earthwork in AutoCAD Civil 3D. created commercial residential spaces on the uninhabitable hill and mountain landscapes.
Ramona Expressway Road Widening – Senior Designer/Project Manager – Navigated through design issues by leading a team of CAD Drafters and Designers while shepherding and consulting the municipalities and builders through the multi-jurisdictional permit processes.
Consulting Projects
Ground Water Contamination Mitigation – US DOD – Managed biological and geological studies of groundwater contamination and multiple agencies, obtaining permits to install groundwater monitoring wells, mitigation equipment, and support infrastructure.
Implemented AutoCAD and Civil 3d Autodesk Suite – Christensen Engineering – Alan transitioned an emerging Civil and Survey firm from antiquated Terra-Model Software to the cutting-edge Autodesk Suite.
Civil 3D Local Deployment – Project Design Consultants – Created templates, custom block libraries, settings, and workflows in Civil 3D and did multiple pieces of training on how to use them in both a large group classroom setting as well as the individual tutoring level.