Meet the Fastest
Global Cloud File System
A must-have for multiple office AEC firms
The success of Architecture, Engineering, and Construction firms is increasingly reliant on the ability of a widely distributed workforce to collaborate effectively. To meet these challenges, a new generation of collaborative applications have been developed. The primary obstacle to achieving this goal is the latency or the time incurred when accessing and syncing files with a central server. Enhancing bandwidth provides some relief, but it does not address the latency challenges. To support these modern applications across globally dispersed sites, a consistent, distributed and secure cloud file system is required.
Panzura Freedom Collaboration™ allows globally distributed users to work together as if they were in the same room. Our patented Panzura Cloud File System is a consistent, globally distributed file system designed specifically for the cloud. It enables our hybrid cloud storage solution to support complex applications to overcome the effect of latency between offices, eliminating delays in opening or synchronizing files. Customers can also make updates in real time, so they no longer have to reconcile different versions of the same file. Every user always has the same global experience. Traditional methods may include using such utilities as rsync, FTP, DFS/R, and Robocopy but they are not efficient.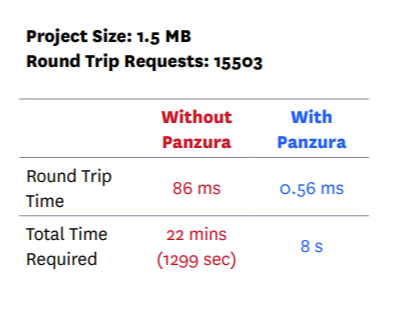 This chart explains the difference in latency between using a NAS device versus using Panzura's Freedom Collaboration.
Built With the AEC Industry In Mind
Accelerate Collaboration & Reduce Latency
Panzura solves the 'File Open' problem, reducing BIM and CAD file open times from upwards of 20 minutes to as little as 8 seconds.
Eliminate Versioning Problem
Teams using applications like Revit and AutoCAD can unlock only the file elements they need to access, which enables multiple teams to work on projects simultaneously.
Improve Revit Performance
Panzura enables Revit project teams to work together on the same project from different locations in real-time Element Borrowing across sites
Reduce Infrastructure Costs Up to 70%
By taking advantage of the cloud, enterprises save up to 70% while achieving data center performance.
Security
Panzura's immutable file system preserves data integrity, and reduces backup and recovery times.
Increase Employee Satisfaction
Panzura enables AEC firms to tap into the value of their talent anywhere in the world and optimize expertise wherever it exists rather than having to rely on the resources of a single office or the relocation of employees to a different office.
Want to Know More About Panzura?
As a Panzura Partner, ATG is proud to offer this product, in addition to our many other best-in-class offerings, to teams like yours.
Quit the a la carte life & let ATG serve you, full-service style.