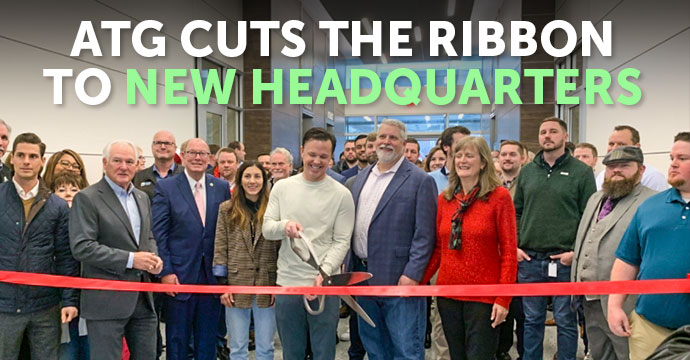 North Little Rock, Ark., Tuesday, December 13 — Today marks a huge step in ATG's growth as we cut the ribbon for our new headquarters in Argenta. ATG's journey started in 1992 when our founder and CEO Scott Landers started the company as a part-time "side hustle" building computers for small businesses. That "side hustle" started to become more than a part-time endeavor, so in 1999 Scott decided to leave his engineering job and focus full-time on the computer business.  
That business blossomed into a boutique computer company that served as the IT department for many small businesses. In order to continue to expand the business in 2003, ATG took on another product line and began selling Autodesk software. Within six months, software sales exceeded computer hardware and service sales, and over the next 14 years, ATG continued to expand regionally. Regional growth turned into national growth when ATG strategically acquired two companies in 2017 and 2018. These acquisitions added new technology throughout the ATG sales portfolio, and ever since then, ATG has maintained a 30 percent annual growth rate, paving the way for the construction and opening of the new headquarters in Argenta. 
ATG is more than just a place where you show up to work for eight hours a day, so the decision to move the new headquarters to the heart of Argenta was an intentional choice that supported both the culture and work environment. "We have a culture where we do a lot together. Many of our employees are friends outside of work and like to meet for breakfast, lunch, happy hour or even just walkabouts. Argenta gives them a place to easily support that," said Scott.  
While it may look like just an office building from the outside, ATG HQ is so much more than that. Many intentional choices were made to complement the unique culture of ATG. "Having grown the business through several second-generation spaces, many offices were buried in the center of the building with no natural light or view." The choice of glass walls and doors allows everyone to see the outside from their desks and brings everyone together. You don't really have a place where someone is stuck in their office eight hours a day because you can easily walk around the office and engage in conversation.  
Another unique feature in the office is the golf simulator and bar. "I'm not a super golfer, but it has become an incredibly effective meeting space. We're seeing our sales management do pipeline reviews while playing around in the simulator. It's also a whole lot less intimidating to sit down and talk with the CEO of the company while sitting at the bar with a beer than it is over a conference room table. It has allowed an environment where folks that generally wouldn't have had the personality to approach me and talk are very comfortable doing that." 
While ATG's growth has opened many opportunities to build upon the company culture and sales initiatives, ATG's growth trajectory expands beyond just investing in the business. "Argenta, to me, has become the coolest place in Central Arkansas. I've watched it turn from a derelict area of the city into a fantastic place to live and work. We look forward to continuing to grow our footprint in the Argenta neighborhood and contributing to the needs of the area."