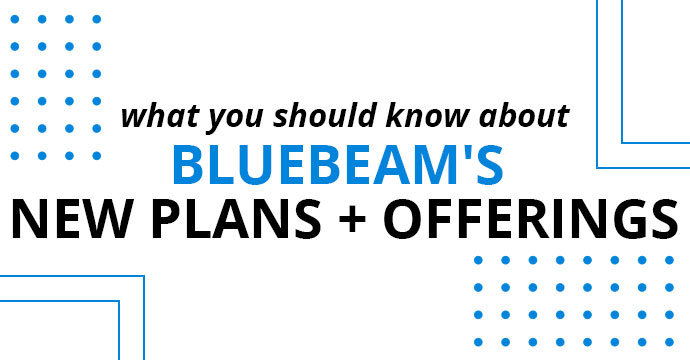 As the world becomes more digitally driven, flexibility, control and innovation are even more important to your team's success. With a push to have truly connected teams from design to field, the pressure of finding a software solution that supports digital transformation continues to grow.
To ensure focus on these key success indicators, Bluebeam released new plans available by subscription. Bluebeam's new plans empower teams to get even more out of the markup and workflow automation tools in Bluebeam Revu while completing entire workflows on the go with new Bluebeam Cloud solutions. The user experience is seamless and connected, so you can get more done together – anywhere. Here's what you need to know.
Why is Bluebeam moving to subscription?
Bluebeam's older perpetual licensing model is on-premises and document-centric, which makes it difficult for customers to manage integrations, keep track of usage and maintain security. Bluebeam's new plans change all of that and include new cloud-based solutions that will help teams extend their work from Revu into the field.  
Why should I move to subscription?
In addition to the typical benefits a subscription provides, such as lower upfront cost, rapid product innovation and improved security, Bluebeam's new plans offer additional flexibility, insights, onboarding and more:
Cost Neutrality + Lower TCO (Total Cost of Ownership)
Reduce admin costs for deployment with named-user licensing
Easily access and learn solutions on web, mobile or the cloud
Convert existing maintenance seats at budget-neutral prices
Continue to use Revu 20 until you're ready to leverage the benefits of Bluebeam Cloud or Revu 21
Flexibility + Insights
Detailed product usage insights
Save time and money by using those insights to understand what your users are doing and determine the right package level
Ease of Use + Onboarding
Access resources to improve onboarding experience
Get full access to Bluebeam University at no extra cost – valued at $250 per year
Rapid Product Innovation + Enhanced Services
Get continuous value with faster product development cycles
Work anywhere with greater web accessibility
Bluebeam Cloud – new cloud-based offering
Geolocational insights, user activity tracking and revamped APIs
What are my licensing options?
Migrate to new plans
If you want to take advantage of Bluebeam's latest cloud and data-centric technology offerings, you can convert your Maintenance seats under an existing contract to one of Bluebeam's new plans available by subscription. For each open license seat, you can assign up to five users to a plan (not all users have to be on the same plan).
For a limited time, you can do so with the benefit of no price increase over the cost of your current renewal. This means you will not experience a price increase of more than 10% per year for future renewal of those licenses. You can also enjoy these features:
New web and mobile Bluebeam Cloud solutions that complement Bluebeam Revu on desktop. Bluebeam Cloud enables you to markup and collaborate on project documents, and manage punch, RFIs and submittals on the go.
Enhanced services such as geolocational insights, user activity tracking, and revamped APIs.
Bluebeam University courses included at no additional cost (a value of $250 USD/user).
Continue perpetual license for one more year
If you choose to continue with your perpetual licenses and annual Maintenance agreement, you will continue to receive updates for Revu 20 (while it's supported). As an existing customer, you'll also have the option to buy additional perpetual licenses until July 2023, if you so choose. Please note that version 20 will be the last perpetual license version of Revu.
As mentioned, an annual cost increase will be assessed at the time of the subsequent renewal (no more than 10%).
Maintenance already purchased before June 30, 2023, will run for the length of its contract.
If you have seats on non-active Maintenance, you will need to purchase Maintenance and have all seats on active Maintenance before they can transition to the new plans at no extra cost.
What are the new Bluebeam plans?
Before you make the move, it's best to determine what features will best support your team. Luckily, our customer success team is here to help – book an assessment today and get a customized evaluation of your Bluebeam tech stack so you can choose the right package.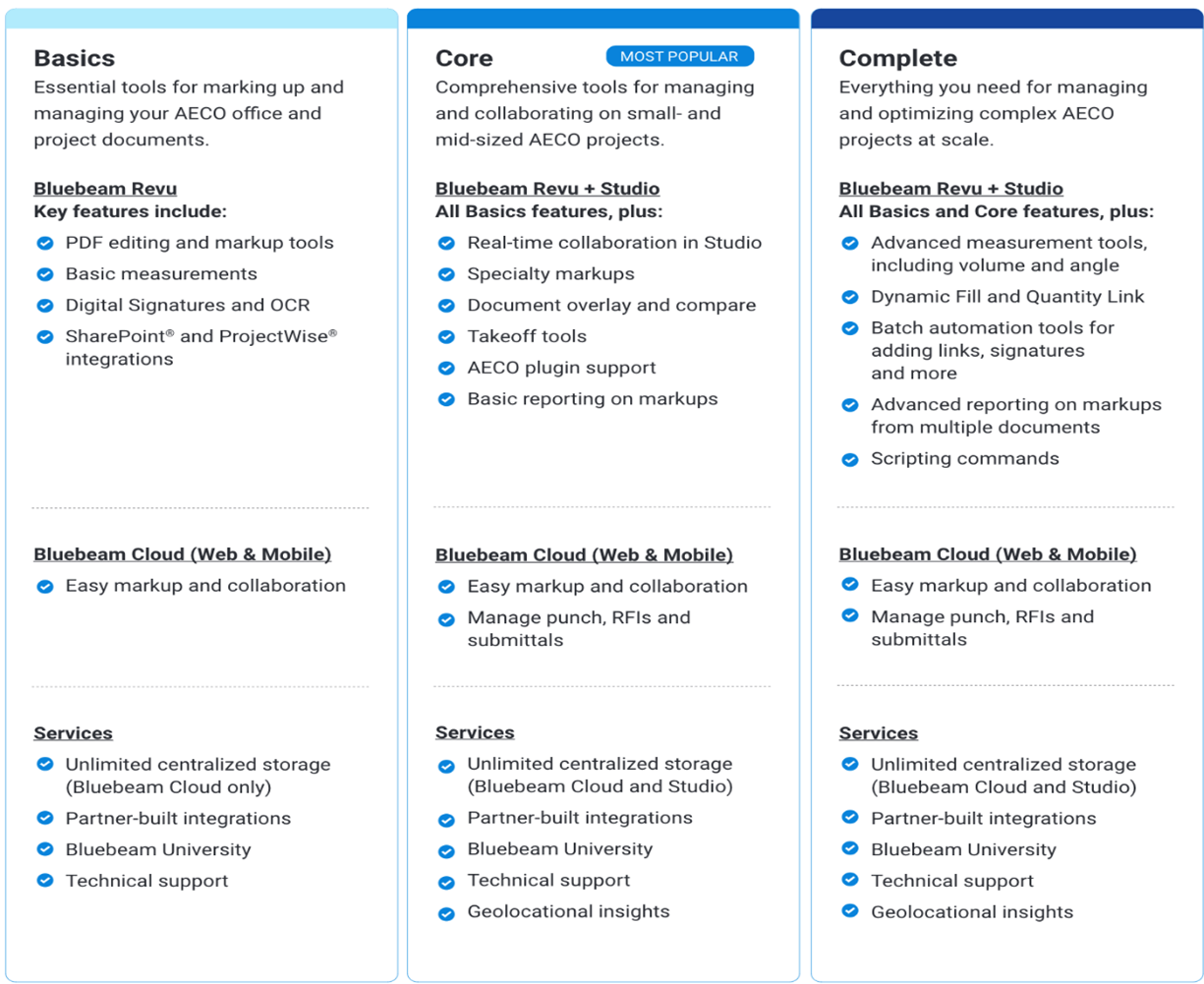 How is Revu different in each new plan?
Each new Bluebeam plan will include a version of Revu that has different capabilities than the three current Revu editions (Standard, CAD, eXtreme).
Basics
The Basics plan offers essential tools for marking up and managing your AECO office and project documents. It includes redacting, optical character recognition (OCR) and the ability to create forms in PDFs, which are extremely important for back-office users such as admin and support. On measurement, Basics will only include basic length and area measurement and will not include custom columns for calculation.
Revu Highlights
Content management and creation, including PDF editing, manipulating, hyperlinking, resizing and organizing
Create PDFs from any Windows files and import and export to/from Microsoft Office
PDF markup annotation, tracking and manipulation, including dynamic stamps and hyperlinks
Application, toolbar and markup personalization
Digital signature, OCR
SharePoint and ProjectWise integrations
Includes basic measurement – length & area only
Core
Core includes everything in Basics plus comprehensive tools for managing and collaborating on small to mid-sized AECO projects. This plan gives you access to specialty markups, capabilities to help navigate large sets (such as visual search) and built-in measurement tools.
Revu Highlights
Adds real-time collaboration (Studio)
Adds AECO 3rd party solution content creation and automations (AutoCAD, Revit)
Adds markup on specialty content (like 3D PDF) and basic measurement and take-off tools
Adds specialty markups – capture, custom hatch patterns, sketch to scale
Adds basic reporting, custom status creation
Adds advanced document navigation – sets, VisualSearch
Adds overlay and compare
Complete
The Complete plan includes everything you need to manage and optimize complex AECO projects at scale. Complete includes everything from the Basics and Core plans plus Dynamic Fill and other capabilities to help projects scale such as advanced reporting, batch processes and automation.
Revu Highlights
Adds advanced measurement tools
Adds advanced automation for scaling projects
Adds batch digital signature and professional seal, batch slip-sheeting and batch hyperlinks
Adds advanced reporting
Adds scripting
Don't get overwhelmed by what you don't know.
As a Bluebeam Platinum Partner, ATG is ready to help you find the right path forward with:
Darian Burks
Content Specialist
Since joining ATG in 2019, Darian has been an invaluable asset as a content specialist and writer on the marketing team. Her background in public relations and journalism as well as her undying love for research enables her to craft captivating and informative content that has not only left a permanent mark on ATG's brand identity but has also transformed the very essence of content creation within the organization.